Channel 4 Screenwriting Course
THE 2021 COMPETITION ENTRY IS NOW CLOSED
The purpose of the course is to offer 12 writers new to television drama an insight into how the industry works and to provide a "dry-run" of what it can be like to write under a television drama commission, specifically for one hour series and serial drama, and to work with them as they write an original drama script.
Writers will be expected to write an original C4 / E4 one-hour drama series or serial pilot episode, and 2-3 page outline / pitch for the series / serial as a whole.
Each writer will be assigned a script editor, who is currently working in the industry, to guide them through this process. Writers will meet at least twice with their script editor and should complete a 2nd draft script before the 2nd weekend of the course. Completed, 2nd draft scripts will be sent to the script editor and two other writers on the course, for workshop discussions at the second weekend.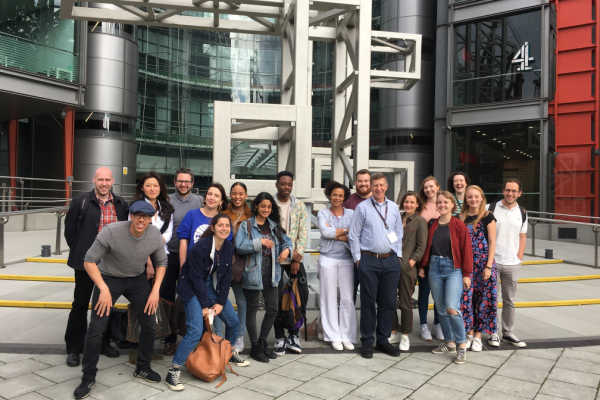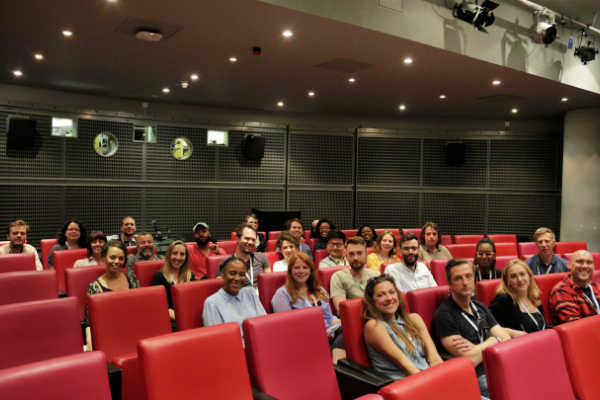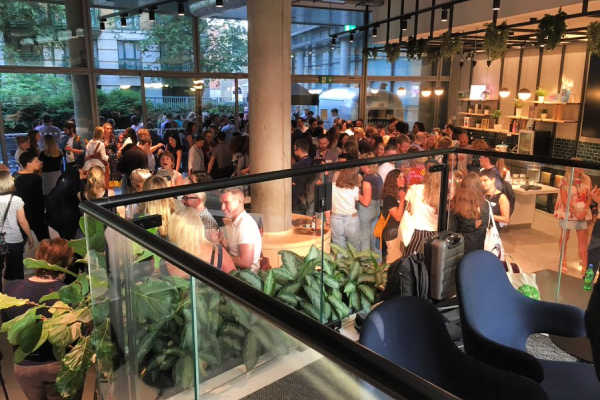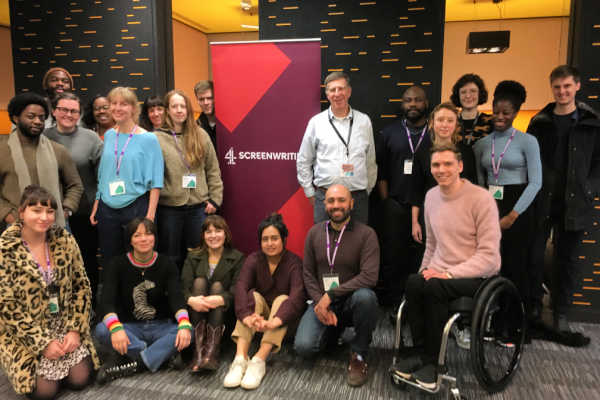 22nd & 23rd January 2022 and 11th & 12th June 2022. Writers must ensure before entering that they are available to attend both these weekends (in London) and are free to write at least two drafts of an original one-hour television drama between 24th January and 1st June 2022. THIS YEAR'S COMPETITION ENTRY IS NOW CLOSED
Writers, directors, producers and script editors in the industry will speak to the participants on a variety of subjects relating to writing for television, especially writing for series and serial drama. There will also be time set aside for writers to discuss their ideas for one hour scripts with their assigned script editor.
This will be split between a reading of a section of each script by actors on the first day, and discussion and analysis of each of the twelve finished scripts in small groups on the second day, finishing with a screening / workshop and an overview of the course and of the specific requirements of Channel 4 series and serial television drama.
It is essential to the success of the second weekend that writers submit their scripts on time and make time to read the (2) other writers' scripts.
There will be a drinks evening at Channel 4 in London on the evening of Tuesday July 6th 2022 (TBC) for the course writers to meet industry producers, script editors, literary agents etc.
Successful writers will be invited to a briefing session at Channel 4 in London on the evening of Thursday December 9th 2021 (before the course begins in January 2022). This is to give them a sense of the current remit for Channel 4 and E4.
Only writers who do not have a broadcast credit as a television writer or theatrical release as a feature film writer may apply (although produced short films – 20 minutes or less – are exempt).
Tuesday 14th September 2021 at 9.00 am.
Friday 1st October 2021 at 5.00 pm.
THIS YEAR'S COMPETITION ENTRY IS NOW CLOSED
Writers will be paid a fee for participating in the course and for completing two drafts of a one hour script. All writers will be required to grant Shelley Productions a first option for Channel 4 to acquire all rights in their script and will be told within six months of delivery whether Channel 4 wishes to exercise this option.
Entry is only possible via the form on this page.
THIS YEAR'S COMPETITION ENTRY IS NOW CLOSED.
Via this form only applicants should submit a CV, together with one writing sample (saved as a PDF). This can be a screenplay (film or TV), stage play or radio play, minimum length 20 pages (novels, treatments, short stories, unfinished screenplays and "shorts" are not acceptable), maximum length 130 pages.
NOTE: YOU CANNOT SUBMIT THE SAME SCRIPT YOU HAVE SUBMITTED IN PREVIOUS YEARS.
The scripts should be original, not episodes of existing drama series.
Entry is free of charge.


Applicants must be 18 or over on Jan 1st 2022.


Applicants must be resident in UK or Ireland.


Channel 4 are committed to promoting equal opportunities and diversity in the media industry.


As well as individual writers, writing partnerships of two (max) may enter. Scripts submitted must be written by the partnership.


Only one script per applicant can be submitted. Anyone submitting more than one script will not be considered.


No feedback can be given on the scripts.


No correspondence (email or otherwise) can be entered into with applicants.


We will be holding interviews for short-listed writers at Channel 4 in London on Nov 25 + 26, 2021.


We will inform the successful 12 writers by mid-Dec 2021.


We will post a notice on the 4talent website once we have chosen the 12 successful writers. If you haven't heard by Dec 20th, your application wasn't successful. We don't have the resources to be able to let each applicant know individually if their application has been successful.


Scripts entered must be 20 – 130 pages in length. They can be screenplays, TV scripts, stage plays or radio plays. Scripts shorter than 20 pages or longer than 130 pages will not be considered.


Your submission must be your own original work, and may not be based wholly or in part, on the work of any other person, whether known, published, produced, or not (ie no adaptations). You may submit a script based on your own work which has been published or written in another form.


Your submission is final. Under no circumstances will rewrites, corrections, replacement pages, or additional drafts of a submission be accepted.


Submitted scripts must be formatted clearly and legibly and emailed as PDF attachments.


We only accept email entries. All entries must be submitted through the online submission process.


Writers should include a CV with their scripts. (Writing work and other work / life experience can be included on the CV).


It is essential that applicants have an interest in and enthusiasm for Channel 4 / E4 drama. Scripts will be assessed on the strength of the writing and the writer's suitability to Channel 4 / E4 drama. Scripts entered can reflect the range of the Channel 4 drama output (eg comic scripts, like Fresh Meat, as well as drama scripts will be considered).


You CANNOT enter a script if you previously entered it for the Channel 4 screenwriting course.


You will be automatically notified by email immediately after submitting your script that your entry has been received.


The interviews for short-listed writers (Nov 2021) and the two weekends in January and June (2022) will be held at the Channel4 building in London.


If successful, the idea you work on during the course will be a new idea, i.e. different to the script that you submit with your entry.
Not to be dramatic but being accepted onto the Channel 4 Screenwriting programme literally changed my life. Before being accepted onto the course I'd been writing for theatre, with admittedly limited success. Philip and his gifted bunch of readers identified something in my voice and style that I didn't even know I had. Each guest speaker imparted invaluable and often inspiring wisdom and the guidance from my amazing script editors helped me achieve the impossible; a full-length spec screen alongside a full-time job in less than 6 months. I'm barely two months out of the course and I have several productions companies looking to develop my spec before I've even found representation. This stuff really works. Apply, apply, apply.
To say 4Screenwriting has monumentally changed my career is no understatement. I had applied in the past due to its incredible reputation and writer alumni. When I applied last year, I was extremely adrift in my career, and hadn't written anything new in a long time. I was absolutely floored when I found out I had been chosen. Being part of the course not only gave me back the confidence to write but also to write what I am most passionate about regardless of what sometimes can feel like an industry 'trend' or what the industry 'wants from us' as new voices. My script editors Izzy and Mike, wholly wonderful human beings, went above and beyond to help me make complete what I believe is one of most succinct, personal, and feel-good scripts I've written (and all this from our living rooms over Zoom!). Besides the resources and intimate talks with industry professionals, Phil's mentorship to me and all the writers was inspirational, and he is unwavering in continuing to give his support and advice, even after the course.
Believe the hype. Believe that 4Screenwriting can take your screenwriting career to the next level. Believe the support from Philip and the script editors is absolutely out of this world. Believe this scheme can empower you to create the best script of your life, secure an agent at one of the biggest talent agencies in the world and open countless industry doors. Believe it because it's not just hype, it's real. It happened to me and it can happen to you. So stop reading this and start applying.
4screenwriting has been a huge help to my development as a screenwriter. In particular, I now find myself interrogating my characters more thoroughly and questioning the best way to dramatize events when developing projects. Although it is only a couple of months since we finished, I'm already seeing the benefit to my career. I'm being asked for general meetings and am getting interest from production companies that I'd previously tried to approach without success. I am also now a finalist in the Triforce UKTV Writerslam, so have an original 30 minute sitcom pilot in development for Dave (4 out of these 6 pilots will be greenlit). I also used my 4screenwriting spec script to successfully apply to EastEnders and will be joining their writing team in October.
4Screenwriting has been a life-changing opportunity. We've been introduced to some of the industry's leading figures. We've been championed to production companies and agents. And most of all, we've been encouraged to write our passion projects. I thought my background and lack of connections made a career in TV almost impossible. Philip, Izzy and Mike have given me the guidance and confidence to make it happen. What an amazing experience to share with some of the most talented upcoming writers in the country.
The 4Screenwriting Course is the most incredible experience. Not only does it teach you to write an industry-ready spec script for TV, but it also prepares you really well to be a working writer. Having only ever written for theatre before, I was really starting from scratch in the TV world. I was teamed up with a brilliant editorial team that gave insightful notes, providing endless support and encouragement throughout the process of turning my idea into an hour-long pilot script. Philip and an amazing host of guest speakers from across the industry gave excellent advice on how to have a general meeting, and invaluable insight into the development process. This has made the process of meeting with production companies after the course far less daunting. Philip was also incredibly helpful in finding an agent, and I'm so thrilled to have gained representation since finishing the course. 4Screenwriting was a total joy from start to finish, and it's really given me so much confidence in my voice and my ideas. I'm so thankful to have been part of the 2021 cohort, and I would highly recommend it to anyone who wants to write for screen!
The Channel 4 screenwriting course this year has truly been a ray of light. As we were in lockdown for much of the course, it was a gift to be working with an enthusiastic, supportive team, who continually inspired me, despite the trying context. Thanks to the insightful notes, and much-needed cheerleading, of my script editor, Philip, and script assistant, Tamar, I've written a script I am immensely proud of. The best thing about the course, for me, has been that we were encouraged to write something we were excited by and which captured our voice, rather than trying to second guess what broadcasters might see on TV. As a result, I was able to write a script which feels authentic and honest, and which I believe in, which so far is proving a brilliant calling card. For the first time, this year the whole course took place on zoom. This included talks from expert producers and writers, script feedback sessions during the drafting process, and readings of excerpts on the final weekend. I feel incredibly fortunate to have had the chance to ask questions and hear insights from the industry's best. I had applied for the Channel 4 Screenwriting course many times before, and I am so glad I persevered. I would encourage everyone considering applying, or who has applied before, to try and try again. Having started out as a playwright, I had long wanted to write a TV drama script, but felt daunted by the idea. On this course, you are given support and equipped with the tools to think and write big. This course has been a game-changer for me, and I'm incredibly grateful to Philip and Channel 4 for the opportunity.
I feel so lucky to have been a part of the 4Screenwriting Course – it's absolutely flown by, and I would do it all again in a heartbeat! It has boosted my confidence and made my writing process healthier and happier. The main thing I took away from the course was how to work with a script editor and how to discuss notes and script development in a way that really moves a project along whilst still investigating all the possibilities the story has to offer. The script I've ended up with is far richer for it and I'm really proud of what I've created alongside our wonderful script editors; I've felt supported and encouraged throughout. The speakers we had were informative, honest and inspiring. To be frank: the experience was invaluable, and I would encourage anyone and everyone to apply!
I know all of the testimonials say this, but I have to say it again, this course is LIFE CHANGING !! It's completely changed the trajectory of my career and as a result of the course I signed with an agent, booked my first writers room and will be writing an episode of one of my favourite shows. I genuinely don't think this would have happened for me at this stage if I hadn't been part of this course. As someone who sort of fell into TV writing I was always looking for some sort of structured route into the industry. 4 Screenwriting has been just this as it provides you with so much knowledge and insight about the industry (I now know 'meeting for a coffee' is code for a general meeting!). Being a fairly new writer, I can't emphasise how invaluable working with my script editors was. Having someone to bounce around your ideas with and also interrogate them by asking the right questions has definitely helped me grow as a writer and it's been the perfect springboard to prepare me for what it's like working as a TV writer. And having Philip in your corner is definitely a key ingredients for successfully navigating this industry. All in all I really encourage everyone to apply apply apply !! And if you're a newbie like me who might be doubting their ability, feel the fear and apply anyway. You never know this time next year it could be you writing about just how life changing this course is.
As a Drama Development Producer, I knew how well-regarded the 4Screenwriting course was in the TV industry. I also knew how tirelessly generous Philip was in championing his students - but to experience this generosity and insight first-hand was one of the great privileges of my life. It's no overstatement to say that getting onto the 4Screenwriting course, and being able to share the past 9 months with such an inspiring cohort of fantastic writers, has changed my life in ways I never thought possible. Ok, Philip would probably give me some suggestions for cuts here — probably indicate that I was being a bit too florid, or I was telling rather than showing, but you know what? I'm writing this remotely so he can't reach me now. The truth of it is, I can't emphasise more how much I would recommend applying for this course. When I applied, it was at a point in my life when I had decided that the window of opportunity for becoming a writer, and for sharing my work with a world beyond a close circle of friends, was basically over. I sent in the application and sample with very little expectation, and indeed, forgot about it until Phil reached out. Nevertheless, ever since then, it's been everything I might have wanted, and more. Apply, apply, apply. You won't regret it.
Entering 4Screenwriting, I was under no illusion of how great a programme it was – I've applied practically every year since its inception in 2011! Every single part of the course has been great, from the first weekend (where actually, I felt uncharacteristically nervous and under prepared – a testament to the brilliant minds and ideas I was surrounded by) to the actual writing process. Above all, I feel so eternally grateful to my script editors. To have dedicated support like that to getting the best out of you is invaluable and I'll forever appreciate them convincing me to write the script I wrote – a massive, ambitious story and world which I've dreamt of writing for nine years. 4Screenwriting was the perfect place to write it because you can throw the bulging bag of ideas around the room, with your script editors guiding you in how to make it the very best story that you are trying to tell. The level of support I received throughout the programme was everything I had hoped for and more, something that meant all the world to me in a period where I suffered a bereavement very early on (followed by the global pandemic that we all experienced). I'm so proud of the script I wrote, and the confidence I have in it would not have been possible without the support from 4Screenwriting.
Having worked on the development side of the industry for a few years I knew first hand the calibre of writing produced on the 4Screenwriting course. Now having had the opportunity to participate on the course I fully understand why 4Screenwriting has the excellent reputation it does in our industry. While working with Philip Shelley and Danny Moran I felt completely supported in telling the exact story I wanted to tell, but I was also pushed out of my comfort zone and challenged to take my script to brilliant new places. This is a course that champions writers, champions story and nurtures real growth. I am so incredibly grateful to have been able to participate on the course this year. If I could do it all over again, I would!
4screenwriting is simply the best thing you can do as a writer. Beyond the incredible connections you'll make, industry attention you'll receive, and all the insider tips you'll glean from the speakers, the most gratifying thing is the work you get to make during the 6 month course. Collaborating with an experienced, clever and passionate script editor, like Philip, was the most creatively satisfying experience I've had – before or since. I would apply for this year's course if I wasn't ineligible! (quickly checks the small print to triple- check I'm not eligible)
It is not an exaggeration to say that the 4Screenwriting Course is positively life-changing. The whole experience from start to finish has been incredible. Philip and his team of script editors have been so supportive throughout. I feel like an infinitely better writer as a result, and for the first time in my life like a professional one! On a practical level, Philip arranged some amazing workshops and speakers from the industry, we were each assigned a script editor and shadow script editor who took on the task of guiding us through the writing of our pilot script and it has opened so many doors within the industry. I began the course as an unrepresented writer and have ended the course with a wonderful agent. For this reason alone, it has been invaluable. In conclusion, I have come away from this course with a brilliant pilot script that I am unashamedly proud of, an agent, a load of new contacts and some amazing friends. I mean, it's a no brainer! Apply, apply, apply!
If you want a career as a Screenwriter then you must apply to this course. It has been inspiring but also challenging. It will raise your ability and skill as a writer to new levels. I was partnered with one of the best script editors in the business who pushed my idea to be the best it could be. During its development, Philip scrutinized and encouraged me to find the core of my story and depth in my characters. I also loved having a supportive bunch of writers to bounce off each other. The response from the industry, so far, has been great. The entire experience has been a joy.
I loved being part of 4Screenwriting 2020 and still feel extremely chuffed about the whole thing. I was paired with a brilliant editorial team and could not have asked for a happier, more fulfilling creative experience. I was encouraged to experiment and take risks. I even strayed into an entirely new genre. I met some generous, talented writers with whom I know I will remain friends and I learned a lot about structure, plot-wrangling and my own voice along the way. In terms of industry contacts, being a 4Screenwriting alumni is like being given a magic password. It opens A LOT of doors. I strongly recommend applying. I'm so glad I did.